Martin and I stayed in an apartment above a canal; the little courtyard even had its own portal to the canal.  At night, we could hear gondoliers singing, lovers laughing and Italian families having dramatic conversations.
We were determined  to live like a Venetian, despite all the tourists.   We quickly managed to make Venice our home when we found the little neighborhood grocery store, the fruit and vegetable stand and the bakery. Three flights up the stairs to the loft apartment didn't phase us, since we have grown used to arriving at our abode breathless; many flights of stairs per day is a way of life.
Venice was quite cold and alternated between a few sunny days and days of rain.  Regardless of the weather, we gleefully immersed ourselves in the art, history and beauty of the city.  Venice in autumn had a special kind of light.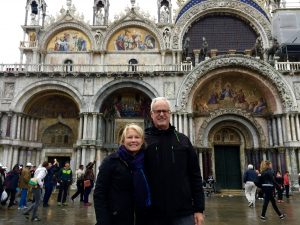 Everyone in Europe wears scarves; it is quite the fashion item.  So I, too, wrapped my neck fashionably and stayed warm.   The incredibly good food in Venice kept us going.  One of our favorite restaurants was right in our little courtyard.
On our last night, we went to a performance  of selections from operas by Venetian composers, in a small theater with singers and musicians in 17th century costume. We loved it.  In the morning, we had the unusual experience of taking the boat to the airport.