Riomaggiore, Cinque Terre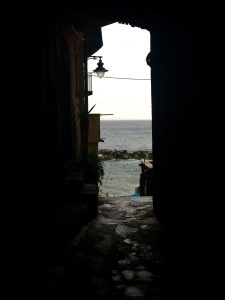 The tremendous storm of the day before was clearing.  Martin and I ventured out to explore our village, all drenched and drippy, but shaking itself off and coming to life.  The water seeped into the cracks in the stone walls of our seventeenth-century house, feeding ferns and moss.  Sun peeked through patches of blue overhead.
Food stores displayed their vegetables on the street, the wine shop door was open, the bakery already had a full stock of Ligurian pastries and focaccias and restaurants were supplying cappuccino to eager tourists.  We gleefully filled our bags and our tummies.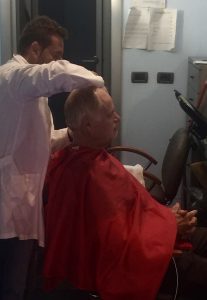 We discovered that the street was indeed a river of water.  We could hear it all around us.  However, we could not see it.  It flowed beneath the main street of the village.  Ancient drains from all sides, supported by stone-built arches, fed the contained rage of the water under our feet.  We could hear it roar from beneath the grates placed at intervals all the way down the steep street.
Martin conquered his fear of foreign scissors and ventured into the only barbershop in the village.  Fortified and beautified, we were ready to conquer the trails of Cinque Terre.