Vernazza, Cinque Terre
Vernazza is my favorite of all the five Cinque Terre villages.  My pictures tell it best.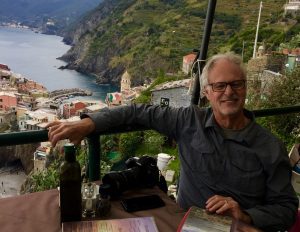 Martin and I did the two-hour hike from Monterosso al Mare to Vernazza, and as we approached the village, we were greeted by a pleasant surprise:  there on our path was our favorite restaurant from two days ago.  We practically fell into the arms of the waiter as we gratefully entered the terrace.  A fresh breeze greeted us. The sea was glistening hundreds of feet below the bluff, absolutely jaw-dropping.  When we recovered control of our jaw muscles,  we dove into the best bruschetta in Italy.