August 9 – 15, 2016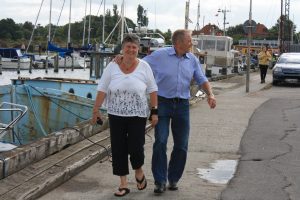 The best thing about this week was Merete and John's summer home on a fjord in Jaegerspris.  We arrived in a storm of wind that threatened to rip the clothes right off of my body.
Undeterred, they welcomed us with a Danish luncheon of mushroom casserole, onion tarte, crème fraiche cucumber, and the tiniest shrimp you've ever seen heaped on Danish brown bread. The shrimp are a delicacy, harvested right out of the waters in front of the house by John himself.
Then, off they went to take care of the grandchildren for the rest of the week. We then set about learning new routines of housekeeping. We washed our clothes in the kitchen sink, hung them out to dry until it rained, then decorated the entire house with socks, pants and shirts attached cleverly to anything that protruded from the wall. We lit the wood stove in the afternoon after walking in the rain—so cozy – and then when it turned into a sauna we got on our shorts and flung open everything that had a hinge. At night, we slept under fluffy down comforters — with the windows still wide open. The Danes sleep under down through all the seasons, and we were going Danish all the way. It was a struggle to keep our cool. At dawn, 5:30, the sun streamed in and greeted us, ready or not.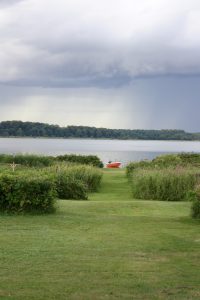 Every morning required a stroll down the vast green lawn to the quiet waters of the fjord. Along the way, we gathered raspberries and blackberries. We must have consumed the equivalence of $60 US Dollars in berries – growing in huge hedges that went all the way down to the sea.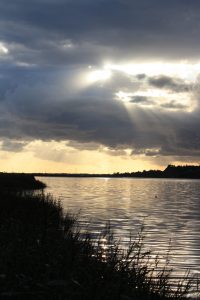 We wasted a lot of US minutes staring at the sky.  The home was blessed with a wall full of windows and doors going out to the sea.  The island is blessed with wind, rain, sun, rainbows and the most astounding clouds.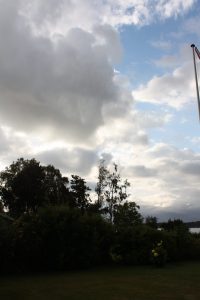 At any time of the day, you can look out over the fjord and watch the show.  A stately parade of clouds passes by over the water, always progressing from west to east.  Great white, gray and black shape shifters move in stately procession.  Whales, giraffes, bunnies, witches, mountains, tarantulas, you name it.  Time and space loses meaning.  You forget where you came from and where you were trying to go.
Then, one night, after we had thoroughly marauded all of Merete's delicious leftovers, we got a little hankering.  Was that ice cream I saw in the freezer?  I explored.  I found.  I produced the most delightful desert and I proudly presented it to my husband.  Creamy vanilla ice cream, dark chocolaty drizzle, almond biscuit garnish.  Am I The Gourmet, or what?  My husband, takes a few bites and remarks, "This is . . . exotic." I've really proven my culinary ingenuity now.  I taste it.  A salty, almost coffee flavor graces the cream.  Hmm. . .  The bottle certainly looked like chocolate sauce.  (Granted, I wasn't quite sure of the contents, since they were labeled in Danish.)  Oh . . . Not quite chocolate sauce.  Oh no, I do think it is . . .  meat sauce.  OMG, I just had just served meat sauce over my ice cream.  When I told Merete about our faulty marauding, I think I gave her an American–in-Denmark story that will receive uproarious laughter at many a dinner table throughout Jaegerspris.