August 16, 2016
The best thing about today was finding our new home there, just 4 kilometers outside of the city of Nyborg, but feeling like it's way out in the verdant countryside.  The countryside in Denmark is a patchwork of charming small farms.  Gently rolling fields of wheat or corn or clover, interspersed with woods and ponds, surround whitewashed barns and houses with tile or thatched roofs, usually arranged in a U shape, with the house in the middle and the barns on either side.  Horses and cows graze on the lushest grassy meadows imaginable.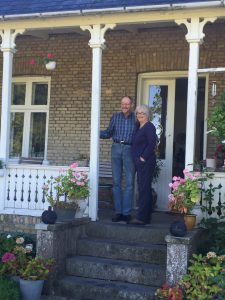 We drove through a copse of tall trees, past elaborately patterned brick barns and horses grazing near shady ponds.  We then found ourselves on a dirt road, wondering what the heck we were doing there.  Then we came upon the house.  Suddenly, we knew why we were there.  It quietly stood beyond its lawn and its ancient tree, welcoming us to come forth.  Our hosts appeared on the porch.  We had found our new home.
It had been the home of the Nyborg Castle gardener for two centuries.   On the bricks of the front porch, his pupils and apprentices had written their names and the dates, going all the way back to the mid-19th century.  The upstairs was awash with sunlight from tall windows and skylight roof-windows that the nineteenth century architect had never dreamed of.  The bathroom was filled with radiant heat from above and below.
One of the best things about the stay was the breakfast, served in a spacious country kitchen, and complete with candlelight, English eggs, Danish cheeses, ham, fresh rolls, four different homemade jams and tea hot and cozied.  For the next breakfast, we requested the company of our charming hosts, Anne-Lise and Niels, and breakfast was even better.  She is a seamstress and color analyst.  They have a thriving online business promoting  Kagan water machines and Nu Skin products.   They met in Odense several decades ago when she walked down the street to borrow a stamp.