Martin and I decided to bike all the way around Lake Annecy.   Never mind that the path is 45 kilometers long.  We bounded in to the bike rental office, hopped onto bikes and within minutes we were blithely pedaling along the sun-shimmering lakeshore.  I've been on some beautiful bike paths – in Vancouver, in San Diego, in Manhattan Beach, in Yosemite.  This had to be the most varied and beautiful bike path I had ever seen.
We paused at the charming little port of Menthon de Saint Bernard, graced with trees and shady benches, pots of pink and purple flowers and small boats bobbing in sparkling lake water.
From behind us, we heard the question, "Where are you from?"  A smiling woman with short brown hair was addressing us in English.  Conversation ensued, flourishing as naturally in the sunshine as the ducks swimming companionably in the clear water nearby. Her name was Doris.  Her English was impeccable, and I gratefully lapsed into my native tongue.  Although she was French, she had lived in England and Boston, so she was completely at ease also in my native tongue.  It turns out she does executive consulting with international firms.  She had just returned from a vacation in Greenland. Immediately I knew that I was talking with someone who had a special something.  She was vivacious, interested in the world and in people, adventurous – and loving her life at her home in Veyrier, just a short way down the lake.   Within half an hour, we had already met her mother, who was reading and basking in the sun on a lakeside bench about a quarter of a mile away.  Before parting, she invited us to her home for an evening of wine and cheese.  Having no friends whatsoever in the area, and no social calendar to speak of, we readily agreed.  Tomorrow, it would be.  We now had a friend and a social event for our calendar.  Life was good.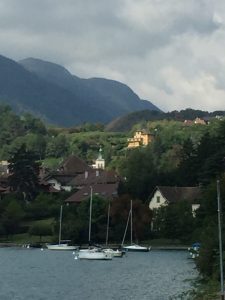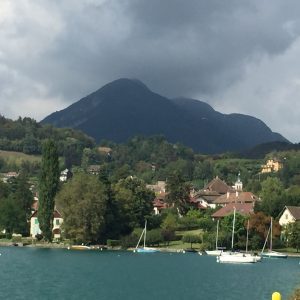 Entranced, we continued on.  At times, we were riding so close to the water's edge, it felt like we were skimming the water.  At other times, we rode through quaint villages or green pastureland. At the far southern end of the lake was a wildlife preserve with marshes and reeds and nesting water birds.  I was in heaven.
About halfway around the lake, and my butt and my thighs were feeling it.  At this point, there was no turning back.  My legs were carrying about twenty tons of lactic acid, but I was in France and this was still a glorious path.  My legs felt like they were going to fall off of my body — and I would bid them good riddance —  but the air was cool and the sun was warm.  I was yearning to see dear Annecy again.  The path, however wonderful, was endless.  Endless kilometers of heaven:  Isn't this nirvana?
Yes, it is nirvana – when you finally make it home and waddle up the steps. Then, you know you've been briefly to heaven.