August 29, 2016
Today is our anniversary.  Two years minus two days ago today, on a cool morning, Martin took me to Pont St. Michel. All the way along the bridge, left and right, the bridge glittered with hundreds of locks, linked, together, on this span above the Seine.  Lover's vows and lovers' hopes squeezed close, bound to its guard rails, locked with keys that have gone to the four corners of the earth.
In the end, the burden grew too heavy for one bridge to bear.  One sad day, the appointed executioner severed every lock.  All those lovers know not where their locks now lay.  They only know what is preserved in their hearts.  Every click of the lock was an act of courage, hope or steadfastness. How do these stories end?  How many of them have stayed truer to their love than did the locks upon the bridge?
We know only what is in our own hearts.   Actually, we are lucky if we do know our own hearts.  The path to that knowledge can be perilous, and declarations of love can exact the courage of a lion – or maybe even a lioness.
Two years minus two days ago today, on a sunny afternoon, Martin suggested we go to the park at the tip of Isle de Saint Louis.  As we leaned against the ancient stone railing, watching the Seine flow by, he asked me a very important question.  I gave a very important answer. We sealed it with a very significant kiss.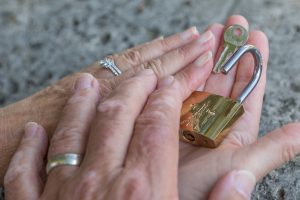 Now, one year ago exactly, on a sunny afternoon, we celebrated our one-year wedding anniversary.  We returned to that overlook on the tip of Isle de Saint Louis.  Together, we locked a shiny new golden lock – not on a bridge that could in time be unable to support the weight, but on the solid rock of an ancient island. There was no question.  However, it was sealed with a very important kiss.