Riomaggiore, Italy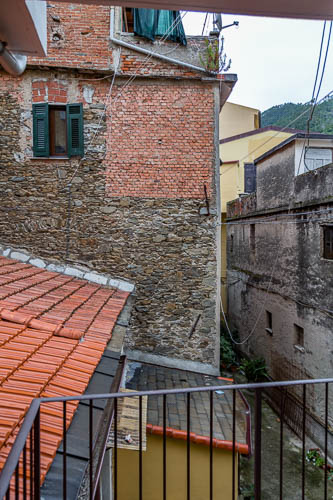 Martin and I are tucked away safe in our cozy apartment.  It is on the second floor of an ancient stone building, within a maze of twisting and turning steps and tiny courtyards.  The walls are two feet thick, chunky whitewashed stone.  The wooden ceiling is suspended by roughy hewn two by fours and whole pine tree trunks.  The floor is terra cotta.  All is dry.  Radiant heaters warm the room.  For the moment, all is still.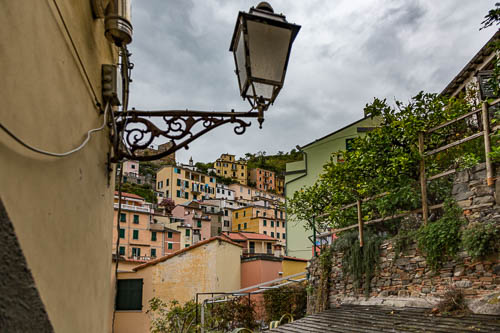 The main street of Riomaggiore nestles in a gorge that nature cut between two soaring mountain ridges that cling on the very edge of the land, on the Ligurian coast.  Martin and I arrived yesterday afternoon in the rain, barely getting a glimpse of the dramatic coastal plunge into the sea.
Today, as we ventured out for groceries and some lunch, shops and cafes were closed and shuttered — even the international bar. Were they all taking a lunch siesta?  Signs on the doors:  So sorry, closed for bad weather.  Bad weather?  Aww, they just want the day off.  Are these Italians afraid of a little rain?  Why, we have been to Denmark and Norway.  We aren't afraid.  Even the tourist information center was not opening its doors.  We stood at the darkened entrance mystified.  A kind Italian-speaking Swede enlightened us:  Bad storm expected, a "red" designation, schools closed, high alert.  Advice:  Get food now.
As we walked up the street,one brave bar was open.  I'm sure it will have some loyal patrons today.  Further up the street, only Mama Mia's open, and doing quite a brisk business.  We snapped up whatever we could carry, and home we went.
Hit the internet before electricity goes out. The European "Meteoalarm" indicates "red" alert for Liguria — rain, lightning and wind.  What does red mean?  "The weather is very dangerous. . . Exceptionally intense meteorological phenomena . . . threat to life and limb . . . Follow orders and any advice given by your authorities . . . be prepared for extraordinary measures."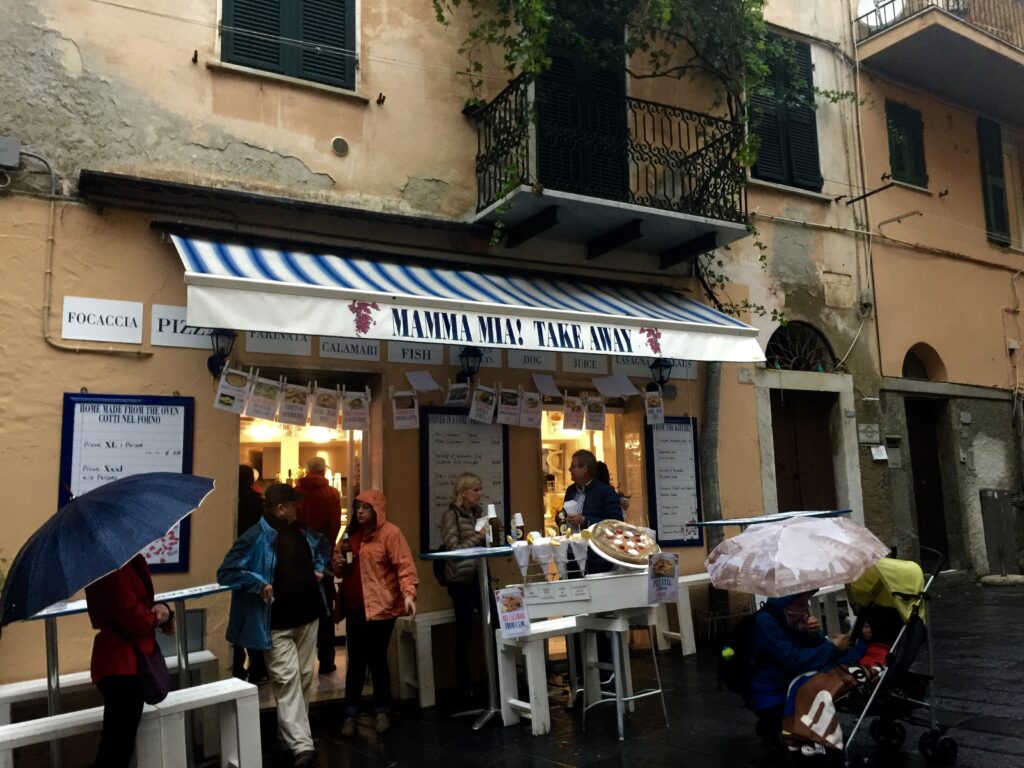 Well, the only orders that are being obeyed is to not report for work or feed tourists.  I am wondering what "extraordinary measures" are required. There was no place to buy candles, or matches for that matter. The wine shop was shut. We have procured, however, an immense paper cone of fried calamari and another one of fried anchovies. To round out our rations, we have a supply of onion focaccia, white pizza and thin chickpea and cheese pancakes.  God bless Mama Mia.
Some "intense meteorological phenomena" did manifest —  lashing rain, wind crashing the shutters shut, water cascading down the roofs, and thunder pounding on the mountains.  Church bells began tolling.  I started to think not about God, but about the name, Riomaggiore. Wouldn't that mean something to the effect of major river? However, there was no major river. Would the name imply that the major street becomes a river?
Well, you will just have to come back and read of the further adventures of Martin and Pat to find out.